"EnergyPro® is a purpose built Utilities and Carbon Management system providing reliable, sustainable & practical measurement, management & reporting of Energy Utilities & Carbon emissions sources."
EnergyPro automates the collection, analysis & reporting in a phased approach resulting in Proactive Energy management.
Data Collection: invoices, usage, costs from variety of data available, using invoices, electronic data, meters etc 
Data Mining: EnergyPro analyses the data for exceptions, raising alarms quickly & automatically with reports. The analysis is integrated with your organisational structure – so it makes sense!
Management: Proactive informed decisions can now be made with savings measured.  Initiatives & improvements are undertaken & tracked for results.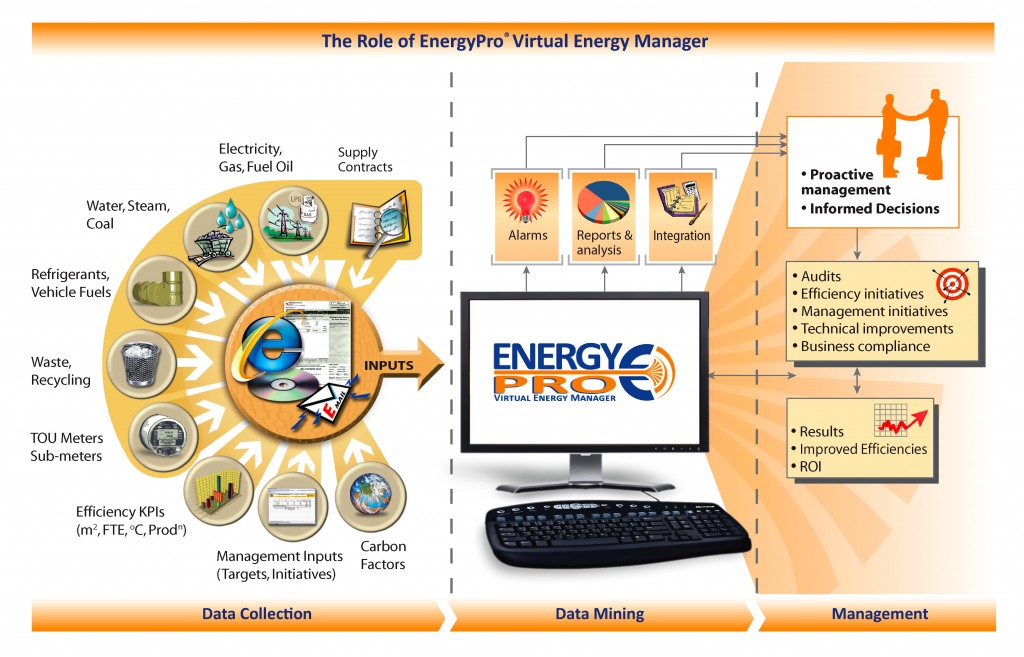 FEATURES:
Covers all ISO14064  emission sources
Trusted by leading energy managers since 1992.
Centralises all energy utilities and carbon emission sources information.
Online system, modular, scalable and adaptable
Dual capability providing for experts as well as managers

BENEFITS:
Faster, Better, More: Processing, analysis and management control.
Flexible,Adaptable: Modules- from core to comprehensive. Options- in house, outsourced or shared.
Sustainable: People independent, practical and long term solution.
Compliant & Verifiable: Developed in line with ISO14064 standard to assist in compiling a quality carbon inventory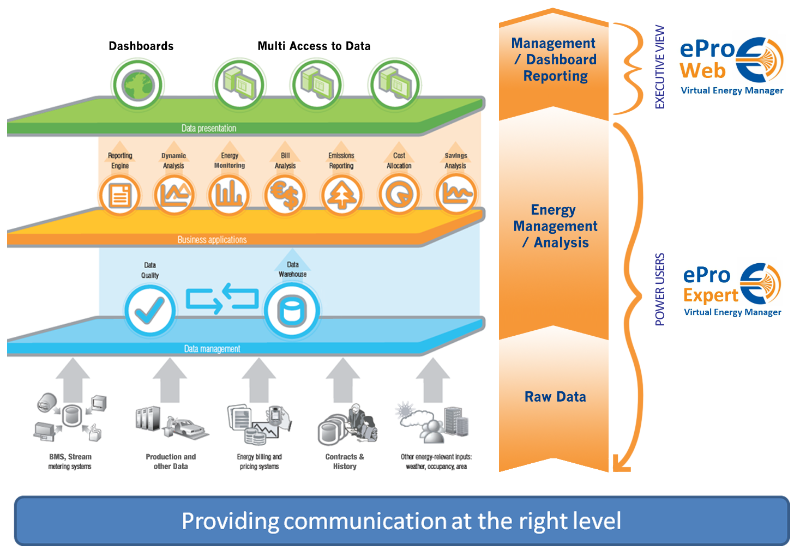 Unlike other systems, EnergyPro® has the additional flexibility of a dual capability system dependant on the audience to ensure maximum value is derived where it is needed.
eProExpert provides in-depth expert level processing, analysis and reporting for the most demanding audience including advanced reporting, financial integration, accruals and savings.
eProDashboard provides management view, web-based, dynamic reporting and filtering of data to ensure that the details do not cloud the outcomes.